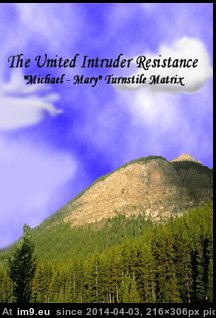 The United Intruder Resistance "Michael-Mary" Turnstile Matrix (& Calgary Rainbow Roundtable).
Recorded in Calgary, Canada, February 2002.
Contents Include: Illuminati One World order Agenda & the Atlantean Pylon Implant Network (APIN) Legacy, Progression of Intruder APIN Templar conquest, 9-11 Infrasound Sub-Space Sonic Pulse projection, Planetary Shields release Schedule, Radial Body, Merkaba & Trion-Meajhe Field Mechanics, Radial Body Healing and the Veca Codes, Veca Healing: Restoring the Trion Field, Eckasha (God Seed) Healing: Restoring the Meajhe Field, 12 Strand DNA Template, Vector Codes a& Seals, Crisis Intervention Expedited Amenti Opening Schedule, Intruder UIR Races & their Affiliations. Includes: APIN, WTC/ Pentagon Disaster, Canadian Turnstile matrix, General Phantom Grid, Radial body & Manifestation Mechanics, Real Christ crucifixion, Jehovian Seals & Axi-A-Tonal Lines, Expedited Amenti Opening Schedule 2001-2012

what side has been (ab-)using you?
http://www.4shared.com/video/BCdn3qfC/UIR_Disc_1.html http://www.4shared.com/video/sYoTwv8J/UIR_Disc_2.html http://www.4shared.com/video/7mOTwr8J/UIR_Disc_3.html http://www.4shared.com/video/eqoZnDTH/UIR_Disc_4.html http://www.4shared.com/video/ye9o3se8/UIR_Disc_5.html http://www.4shared.com/video/XV5UefCF/UIR_Disc_6.html http://www.4shared.com/video/155XmYCX/UIR_Disc_7.html if video wont load issue in on 4shared's side(use the download option)